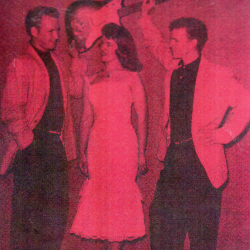 Dewayne, Ron and Glenda Blackwell are the first three of seven children who started singing together as the Blackwells in January 1958. Dwayne was born in Corpus Christi Texas on September 17, 1936; Ronald and Glenda were born in Woodland California on October 4, 1938 and April 29, 1940 respectively. The family worked in lumberjacking and goldmining while all three went to school in Laytonville, California.
Their musical breakthrough came in 1958 when Dewayne wrote "Mr. Blue," which he had hoped the Platters would record but was nervously happy to audition it in San Francisco for the Fleetwoods, who were looking for a follow up to their No. 1 record, "Come Softly To Me."
The Blackwells were writing songs for Dandelion Music, and they signed a recording contract with G&G Records in Benicia California on May 6, 1958. The next month, Guyden Records bought two of the recordings from G&G, "Holey Sombrero" and "Oh My Love." The sale was brokered by the Blackwells' song publisher, Fabor Robison of Dandelion Music. Though the record was not a hit, the Blackwells signed an exclusive recording agreement with Guyden the following month, in July 1959.
The Blackwells moved within the Jamie/Guyden family to Jamie Records for their subsequent releases, which started with "You Are Free, I'm Alone" b/w "Depot," (Jamie 1141) in October 1959, which were produced by publisher and producer Fabor Robison. Holiday record "Little Match Girl" b/w "The Christmas Holiday," (Jamie 1149) followed, which was also released for the 1960 holiday season as Jamie 1173.
The Blackwells' best seller was "Unchained Melody," released as Jamie 1157 backed with "Mansion On the Hill" in April 1960. It reached No. 63 in Cash Box. Their biggest record internationally was "Love Or Money," released in February 1961 as Jamie 1179. It got to No. 67 in Cash Box and No. 107 in Billboard. In England, it created a large following for the group as their original "Love Or Money" got to No. 42 and the song was covered by Billy Fury.
The Blackwells figured in Phil Spector's early career. Spector was associated with Lee Hazlewood and Lester Sill's Gregmark Music. Hazlewood and Sill produced Duane Eddy and Spector traveled down to Phoenix to watch Duane Eddy sessions, where he picked up many of the echo techniques used on Duane's recordings from Lee Hazlewood. Spector then produced the Blackwells on "You Took Advantage Of Me" b/w "I" as Jamie 1199, the last Blackwells recording for Jamie in August 1961. The group broke up after Ron Blackwell died in a motorcycle accident.