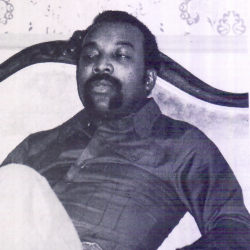 Leon Huff biography excerpted from Cooler Than Ice: Arctic Records and the Rise of Philly Soul
Unlike his writing and producing partner, Kenny Gamble, Leon Huff was rarely an artist in his own right. He was one of the primary session musicians in Philadelpha, and though his keyboard work is infused through recording sessions throughout the 1960s, his name was hidden in session documentation. A rare exception was the instrumental of "Soul City," which appeared on Jamie Records in May 1963. The A side was the "Sopul City" vocal by Pervis Herder. The B side was a piano instrumental by Leon Huff, an emergence of his long before he and Leon Huff became the primary architects of "The Sound of Philadelphia."
Born in Camden, New Jersey on April 8, 1942, Huff grew up in the city's housing projects. His mother was a gospel pianist, and Huff also learned from watching pint-size pianist Sugar Chile Robinson pound out boogie-woogie when the lad starred at Philly's Earle Theater. Leon got his feet wet playing the 88s at his neighborhood Baptist church and accompanying local doo-wop aggregations before he came into contact with the ever-helpful Weldon McDougal, who steered him into session work. Leon cracked the New York session scene for a time too, but it was in Philly that his talent would fully blossom. Once he teamed up with Gamble, there was no stopping the prolific pair.
Huff was actively working with Gamble as a songwriter on songs that appeared on Arctic Records, where Kenny Gamble was also an artist. As an example, "Gamble and Huff came along and wrote something called 'Help Wanted,' which is a takeoff on 'Storm Warning,'" says Carlton Fisher, composer of the latter. "The same thing, if you listen to it. But I never did get a lot of credit for the Philadelphia sound. But we were all in there together. We were all using the same musicians and everything. Gamble and Huff were just the main persons on it. They influenced it more than anybody else."
An important early chapter of Gamble and Huff's story had been written at Arctic, but it was at an end, along with Gamble's dreams of making it as a singer. From here on, Gamble would concentrate his energies on his creative partnership with Leon Huff. They were embarking on one of the greatest hitmaking runs as producers and writers in the history of soul, launching their Gamble label, where the Intruders scored the first of many hits with "(We'll Be) United" the same year Kenny's last Arctic single was issued. They nailed huge hits over the next few years as independent writer/producers with the Soul Survivors, Jerry Butler, Archie Bell & the Drells, Dusty Springfield, Wilson Pickett, and Joe Simon; then formed the short-lived Chess-distributed Neptune imprint before inaugurating Philadelphia International Records in 1971.