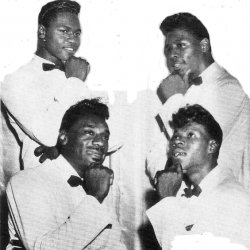 Early 60s doo-wop group the Cruisers started on the Philadelphia V-Tone Records label with their 1960 V-Tone release, "Miss Fine" b/w "If I Knew," (V-Tone 207) followed by "Don't Tease Me" b/w "Cryin' Over You," (V-Tone 213)both of which were distributed by Jamie/Guyden. Two years later, the Cruisers were on Guyden themselves; they then later moved on to Gamble Records in 1967. Their August 1962 Guyden release repeated their previous V-Tone release "Cryin' Over You" b/w "Don't Tease Me" (Guyden 2069). Hailing from Washington, D.C., the group got to V-Tone Records through their talent scout, Larry Kerrin of Maske Records who heard them playing in Philly clubs.
The group got their name from member Paul Long's stint in the Navy, where he was stationed on a cruiser. The other Cruisers consisted of Gene Williams, Randy Hamilton, and McKinley Anthony. Their Gamble Records releases included "I Need You So" b/w "Take A Chance." Releases on Gamble Records produced by legendary songwriter and producer Bunny Sigler included "Picture Us" b/w "Mink and Sable Mable," The Cruisers on Gamble Records shared with Frankie Beverly and the Butlers the distinction of being Philadelphia groups that seemed to pass around from label to label, at least at the beginning of their careers.
Tony Cummings in his book, The Sound of Philadelphia, gives V-Tone Records credit for the evolution of doo-wop into r&b in Philadelphia. He points to the Cruisers as doo-woppers in the transformation performed by V-Tone impresario Lenny Caldwell and his Ridge-Avenue-based label.